[Cover image credit: "Kilravock Castle" by John Allan is licensed under CC BY-SA 2.0]
01 Sep 2023, by Mary Fitz
We often talk about our English heritage, but we also have a celebrated link to Scotland, as well. During a fantastic visit to the Grandfather Mountain Highland Games in Linville, NC this summer, we rediscovered a connection to our very deep Scottish roots - one that brings all descendants of William and Ann (Booth) Clopton under one common Scottish banner - Clan Rose.
---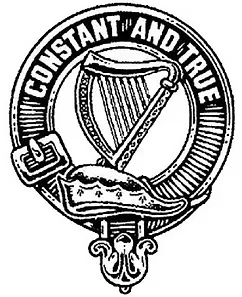 ["Clan Rose crest badge" image courtesy of CRI website]
A cap instead of a helmet denotes that the Clan Chief is not currently in possession of the family estate.
Sir Robert II "Furfan" de Ros, as you may recall, is a direct ancestor of William Clopton who stood as Magna Carta Surety.
Larry Rose, a Council Elder of Clan Rose International (CRI), and his wife Carol (also a descendant of Roses of Kilravock) were manning the Clan Rose convener tent the day we walked by - one in a sea of white sheeting that surrounded MacRae Meadows for four days on Grandfather Mountain. Carol offered a cool drink as I read an appealing motto "Constant and True" on a brochure and, looking closer, the name de Ros caught my eye.
Clan Rose Brochure PDF • 896KB
Clan Rose, as stated in their brochure, has its beginning in the marriage between Sir Robert II "Furfan" de Ros of Yorkshire, who held Helmsley (aka Hamlake) Castle, and Princess Isabel Dunkeld, natural daughter of King William "the Lion" of Scotland.
---
Helmsley/Hamlake Castle is now only, quoting from the English Heritage website, "a romantic Victorian ruin," but Kilravock Castle - the home of the Clan Rose Chief since at least the mid-13th Century - still stands today.
Unfortunately, an heir of the 25th generation sold the estate in 1984, but it is once again on the market. Today, Chief David Hugh Heriot Baird Rose, 26th of Kilravock, his dauthers, Genevieve and Katharen, the members of Clan Rose International are working with a group of community leaders to acquire the funds to acquire Kilravock Castle and reopen it as a historic site for public use.
You can read more on the family's efforts to regain this Clan Rose landmark in an article by the Council of Scottish Clans & Associations website. And visit the very interesting website of Clan Rose International. You will learn a bit more about the history of this noble Scottish family, have an opportunity to become a Clan Rose member if the spirit strikes you, and find out how we can help our Rose cousins in their efforts to regain the ancestral home.
---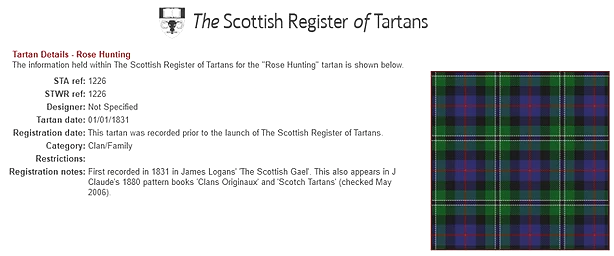 [On ceremonial occasions, England's Royal Tank Regiment uses the Modern Rose Hunting Tartan. "Rose Hunting Tartan" image courtesy of The Scottish Register of Tartans as represented on CRI Website.]
Chief David Hugh Heriot Baird Rose, 26th of Kilravock, resides on Nairnside Farm - an active sheep milk dairy on the Kilravock Estate.
---
And remember, expanding our horizons does not weaken our bonds to British roots in Long Melford, England or other Scottish clans to which some Clopton descendants may also proudly lay claim. We Clopton cousins may now simply also celebrate together that we are all part of the ancient Scottish Clan of Rose.