Tomb of Sir William Clopton, Knt., in Holy Trinity Church, Long Melford, Suffolk, England
---
Our first International Reunion of the Clopton family was held in 1984 in Long Melford, Suffolk, England - the center of Clopton history from the time of William the Conqueror until our ancestor, William Clopton, immigrated to the Colony of Virginia in about 1673. William was the son of Rev. William Clopton and his wife Elizabeth Sutcliffe of Eastwood, County Essex, England.
The 1984 reunion coincided with the 500th anniversary of Holy Trinity Church of Long Melford, one of the great Suffolk wool churches, which is intimately involved with Clopton family history. The church has been identified as one of the top ten in England for historical significance. It features the Clopton Chapel, the tomb of Sir William Clopton and grave of his wife Kathryn Mylde, and one of the best collections of stained glass to have survived the Reformation.
Our family - through The Clopton Family Association - has renewed and maintains its ties to the church and surrounding region by having a reunion every six years since the 1984 gathering. These international reunions are planned and sponsored by The Friends of Long Melford Church Building Trust.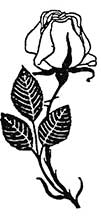 ---
Coat of Arms of Sir William Clopton, Knt.