Cloptons meet in Amarillo, TX
More photos on Shutterfly.
---
The 2006 Clopton Family Association Reunion was held in Amarillo, Texas, Thursday, June 22, 2006 through Sunday June 25, 2006. There were a lot of fun activities for all beginning with the reception Thursday where we made new acquaintances and made renewed old ones. We did a lot of hootin' and hollering, backslapping and hand shaking. Friday followed with a delicious real ranch chuck wagon breakfast, and finally a bar-b-que Friday evening at the Palo Duro canyon. Saturday evening, we enjoyed dinner followed by the traditional CFA Rose Ceremony.
The regular business meeting was conducted Saturday morning where we heard some interesting stories from folks. Some may even be believable. New officers were elected for the new term. Our new President is Ross Clopton ("Boss Ross"). New officers will be announced in the next newsletter.
The next reunion was set for 2008 in England. Long Melford. Proposed reunion schedule and post reunion activities were presented by John Rigby and Ed Hawkins, our friends from England. The proposed schedule was for late June to early July 2008. Details follow on the website as the plans were finalized. If you haven't been to England, or even if you have, this is the best way to visit there.. The entire reunion would last about one week. Post reunion activities are in addition and begin immediately following the reunion.
Finally, after breakfast and church services Sunday morning, we "broke camp" and headed back to our homes.
Until the next time-----------------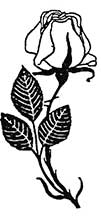 ---