Cloptons enjoy a steam locomotive ride on the Arkansas and Missouri Railroad
More photos on Shutterfly and Facebook
---
By Suzanne Sanders, President of the Clopton Family Association
---
Some instances occur, when describing an event, where "Words fail to express ..." and one is left with that singular feeling when thinking of our CFA Reunion headquartered at the Holiday Inn in Springdale, Arkansas from July 7-15, 2018.
This National Reunion was so much more than a sum total of many parts; although, the "parts" were wonderful. These "parts" or events were worked on for a couple of years by our Vice-President, Ms. Jane Berry Sanders, who was ably assisted by her brother, Mr. Artie Berry. The meticulous planning paid off marvelously, as participants had a railway excursion through the Ozarks to Van Buren on the Arkansas & Missouri Railroad, a tour by "Miss Laura" of Miss Laura's Social Club (a historic home and the Fort Smith Visitor Center), a downtown urban mural project named the "Unexpected Project" that was an entirely different type of artistic experience. And if that was not enough variety, the Fort Smith National Historic Site and separate Museum of History gave historic context to this western-most post of justice and courtroom proceedings.
American Art at Crystal Bridges Museum, featuring both a Georgia O'Keefe Exhibition and a real Frank Lloyd Wright home on premise, added another dimension to our experiences, as did a day in the Bentonville Square where a Farmers' Market was in progress and we had a chance to visit a "5 and dime" - actually the birthplace of Walmart and now the Walmart Museum - and purchase ice cream at an old-fashioned Ice Cream Parlour. Fantastic meals were served at both the Welcome Buffet Dinner on Thursday, and then again at the Farewell Banquet on Saturday. Arkansas lived up to its reputation for delicious Southern cuisine.
We are grateful to Jane and Artie and to other members of the Berry Clan for their planning of these impressive activities and events. So many comments were overheard regarding the feeling of congeniality and warm friendliness among our varied fold of cousins, that I will harken back to the whole effect of our Arkansas gathering much more than the "sum total of the parts"... The genealogy shared by Artie was amazing, both with the slideshow and with the incredibly detailed chart.
Incredible success was achieved at our Silent Auction, where an unprecedented array and quantity of items were displayed for purchase! Special thanks to Abbey Eichelberger, ably assisted by Judy Timmons, for organizing the Auction. Appreciation to all who brought, those who bought, and to several who were generous enough to simply write a check. Our donations to the "Friends of Holy Trinity" in Long Melford, to St. Bartholomew of Groton, and to St. Peter's Parish Church of New Kent County, Virginia, were enhanced by the impressive participation of all!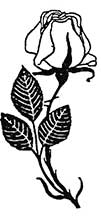 ---